The Gearhead: Goldring Believes In You
Once upon a time, the nascent vinyl phonograph scene in America and Europe was full of excitement and ideas. Edison's shellac cylinders for the first time allowed people to play a song on repeat — think about that — and a whole new era of sound was breaking out of its shell.
Somewhere in there were two enterprising and inventive lads intent on making a mark on the European side. And make a mark they did: in the early years, their "sound boxes" with mica diaphragms encircled by a gold ring would open them up to a wide audience of vinyl enthusiasts. Later, their No. 500 cartridge graced every BBC studio and countless others around the world.
Era after era they've remained relevant and cutting edge, which seems like a monumental challenge. We're talking about one of the greatest success stories in all of audio. We're talking about UK's oldest phono cartridge maker, Goldring.
Goldring began life in 1906 as Gebrüder Scharf, a turntable parts business started by two Czech brothers in Berlin. Moving in 1933 to England seemed a prudent move at the time, although the company, by then known as Scharf Bros, wasn't able to avoid World War II entirely. Its Woodford, Essex factory for example both participated in the war effort and was destroyed by a V-1 flying bomb.
Digging into the rich history of a company with such a lengthy one, the picture becomes clear as to why they've been able to stay relevant over many, many years. With the right design priorities and the correct product direction, a company with a passion for music reproduction can thrive no matter the decade or era.
Case in point being the E Series line of affordable moving magnet cartridges currently available. If only the Scharf brothers could see these beauties. They're are tailored exactly to the needs of the new breed of emerging vinyl enthusiasts world wide, absolutely shining on the 'tables and tonearms prevalent in the entry-level price bracket. Tables like the Rega Planars, the Pro-Ject Debuts and the Music Hall MMFs.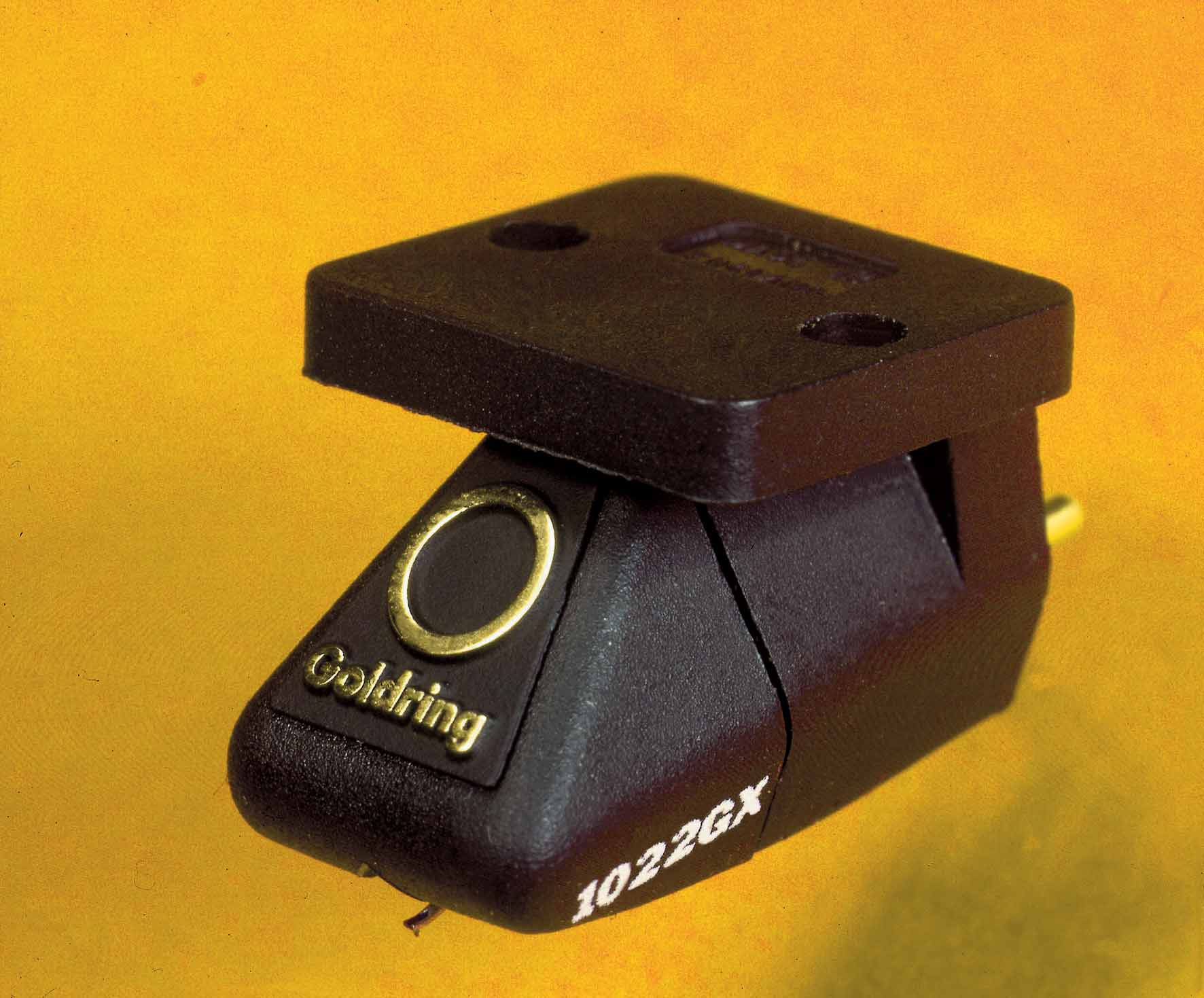 Goldring's attention to detail and well-placed tech inside even their most affordable carts make them an attractive option for upgrading turntables such as these. But one look into the rest of the catalog indicates that nearly any vinyl aficionado could find a match for his or her taste and budget.
In true "find your flavor" fashion, Goldring also offers moving iron and moving coil designs in many shapes and sizes. And it's really the "shapes and sizes" that helps make the case for Goldring in today's relatively crowded cartridge market.
Besides the cartridge body variation, what tends to differentiate the Goldring models most conspicuously is the technology that truly matters to vinyl playback: shape of the stylus and style (and compliance!) of the cantilever.
The compliance of a cantilever works hand-in-hand with the mass of the tonearm to maintain a steady, resonance-free contact of stylus to groove. Mismatching these two elements results in the typical "pulsing" of woofer cones when playing records, and can require phase-damaging "rumble filters" to eliminate what is essentially a very low frequency resonance.
Goldring offers the most quiescent compliance in its E Series and other lower priced models, making a majority of their catalog legitimately plug and play. But for the serious, more invested analog enthusiasts, there are cartridge masses and cantilever compliances to fit all kinds of tonearm styles and masses.
The company's top-of-line Ethos cartridge for example uses a polyhedral line contact stylus shape, and at 25mm/N it can be used with the lighter side of the tonearm 'verse. Vinyl lovers may know that's where a lot of the interesting arms lie. The stylus on the Ethos is no small feature either — its extended length gives it more contact with the grooves, something that Goldring explains well in their product descriptions.
And on that topic, with more than a century of experience up their sleeves, the marketing information for Goldring's products is refreshingly blunt and tech-focused.
At TMR, one thing we love to see is a HiFi audio company prove that their priorities are in place by eschewing otherwise flowery and useless prose to direct potential customers, instead trusting they've done their research and are ready to select a path to vinyl audio bliss. Giving audiophiles the actual tools they need to create beautiful music via synergy on the plinth.
Spend a little time in and around the Goldring world and you get the sense of respect toward the customer. In the sometimes headache-inducing hobby of analog playback the century-old company is there to help, never to confuse.
It really is something worth celebrating when a company can exist in the audio industry for that long. There's a joke about an old dog and new tricks in here somewhere, but I can't find it — maybe the dog ate it.
Goldring shows they are more relevant now than ever. Find your vinyl bliss by exploring our Goldring catalog below.

Shop Goldring