RMAF 2019 Show Report Part 6: McIntosh, PS Audio
As an authorized repair center for the brand, McIntosh is kind of our bailiwick. So much "Mac" gear has come through our doors and gone out to live on in new homes that we feel a sense of kinship with the legendary company. Reaching for familiarity, we beelined it next for the Mac Labs room at the Rocky Mountain Audio Festival at the Gaylord Rockies Resort.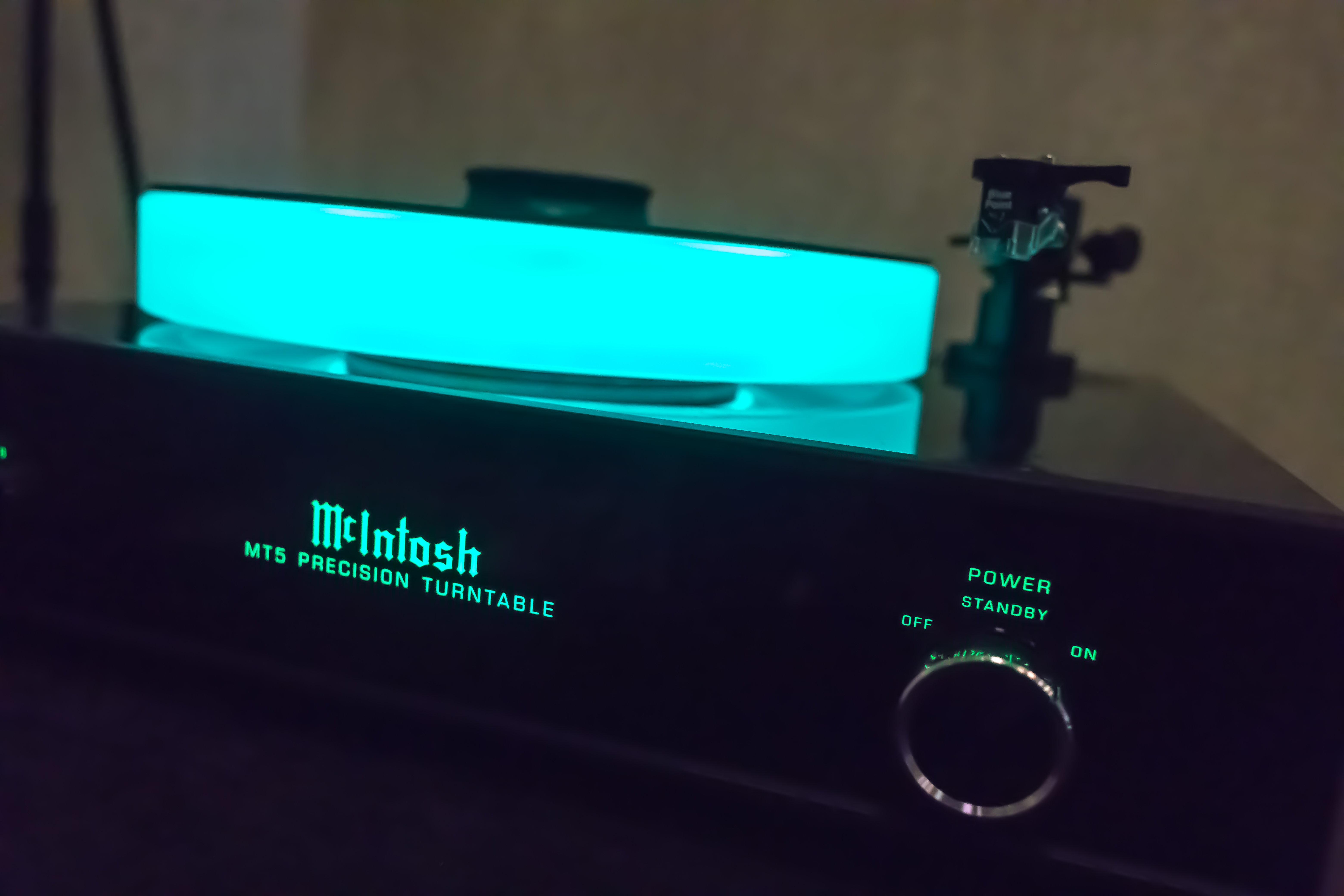 A familiar sound, look and feel greeted us as we stepped in and saw a pair of XRT 1.1K speakers powered by the gorgeous new 70th anniversary carbon fiber-covered MC2152 amp, along with a few other blue-metered pieces. The system had the attending audience enraptured. At TMR we recently sold one of these absolute gems of an amplifier, and aside perhaps from a pair of MC1.25KW monos or something, I can't think of a more appropriate driver for the XRT line arrays at the audio show.
Tonally, the system was good, but because of limited setup time and a challenging set of acoustic circumstances, there wasn't much of a soundstage present. Having tested the MC2152 and those speakers, actually, I can attest that they are very capable of casting an impressive 'stage.
As we left, I spied the handsome MT5 & MT2 Precision Turntables on a nearby table, one of which is working through our listing process right this moment. Both very excellent tables for the no-nonsense vinylophile.
~~~~
Next up for the TMR news train (which consisted of me, our photographer Larson, senior testing tech Dan and his wife Sue) was lunch. My buddy Darren texted me to come meet him and another PS Audio engineer for a bite at "the Italian place." Once down, we found our way to a large booth in the back and the audio talk flowed.
Over the summer, Darren and Chris had been working on, among other things, PS Audio's new line of speakers. They were excited to talk about the novelty and sound quality of the new design, which featured coincident ribbon drivers on the front. That is, a ribbon tweeter mounted directly in front of a large ribbon midrange. Chris, it turns out, is an actual driver designer with tons of experience, and spent much time at Bohlender Graebener learning the secrets of planar driver design. He seems like a good choice to work on this project!
Well, they got us excited enough about the new speakers that we followed them back to the PS Audio room to hear for ourselves. The typical colorful "PS Audio show" was on full display, and the entrance to their quarters felt a little like entering a theme park. Pedestals holding static displays of their products lined the walls on either side, and we made our way toward the listening zone.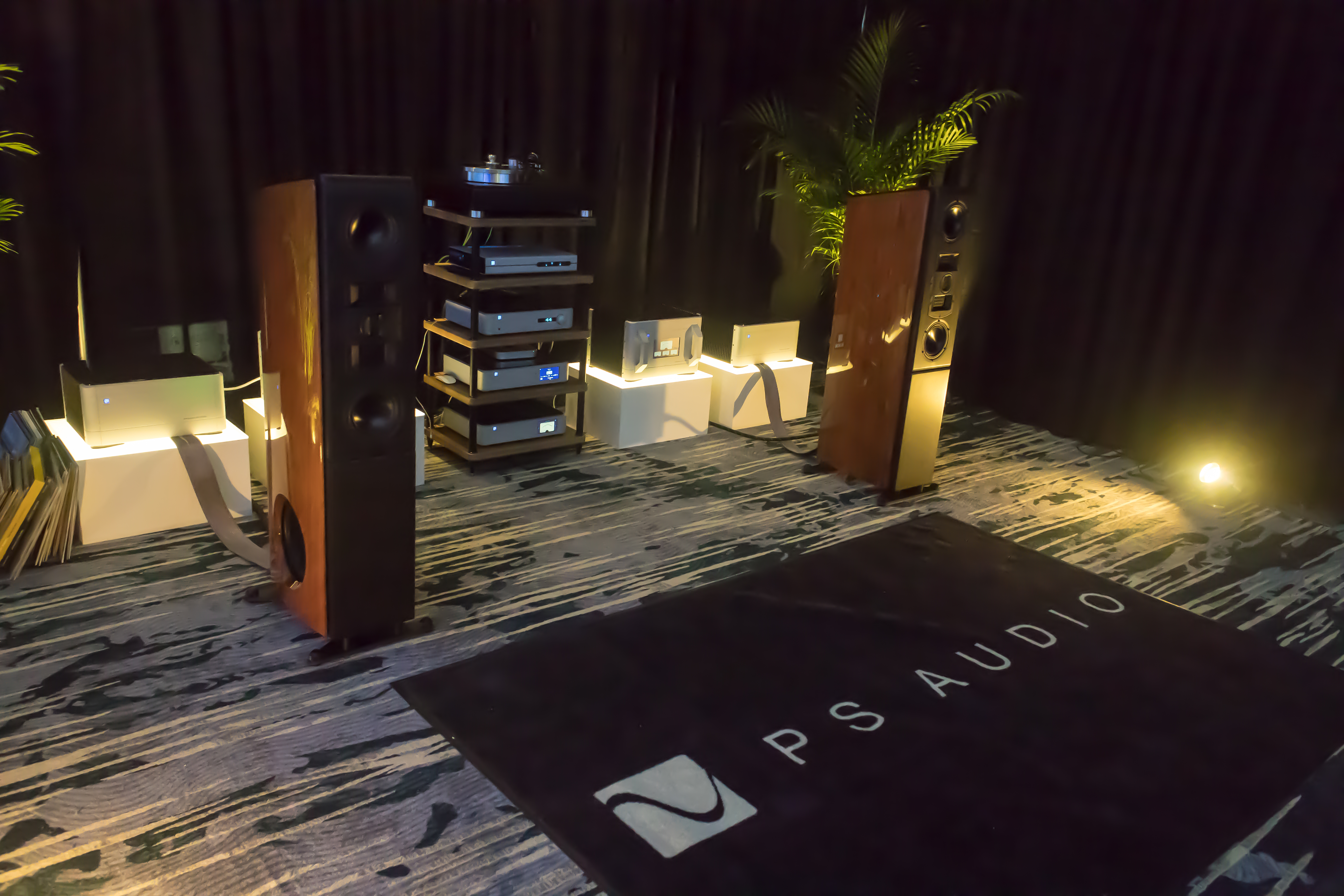 The new AN3 speakers from PS, sporting the initials of Arnie Nudell, who was a friend of and collaborator with the company before his passing, are an imposing pair to say the least. That these might be the smallest in the new line of speakers is quite exciting, and I can't wait to see this new product line develop.
The sound was forceful, dynamic and exciting. The soundstage was impressive. More than in other rooms at the show I saw listeners in full meditation mode, anchored to their chairs for song after song. Clearly good things going on lately with our blue-shirted brethren in Boulder.