TMR Exclusive Review: Aqua La Scala Mk II Optologic DAC, Part 1
"By being yourself you put something wonderful in the world that was not there before." – Edwin Elliott
"Two roads diverged in a wood, and I – I took the one less traveled by, and that has made all the difference." – Robert Frost
Process Rooted in Passion
It's been said that being different is a beautiful thing, and we won't argue at The Music Room, as we celebrate our 10th year in business and marvel at what has evolved into our very unique approach to success in a very unique industry.
A passionate crew and a funky bunch, we also know who we are and what we love. TMR has something like 90% experienced musicians, 100% fastidious and opinionated music fans and an inordinately high representation of actual card-carrying, "I have a disease" type of raging audiophiles on staff.
To give you a glimpse, the "tunes" channel of our company's internal chat portal is often a rowdy place, more like a musical Wild West full of high-noon duels, hot takes and near-brawls by passionate music lovers.
I kid of course about the brawling, but we are as serious about music and sound as we are about having fun, and that's saying something.
Those who've watched us grow from the outside have seen how we've adapted and reinvented our process to be better on every side of our business. Year after year, we've been able to offer faster and more helpful responses and advice, while our catalog has similarly expanded and improved.
Long-timers have also seen us slowly add one reputable "new products" brand after the other to our growing list of brand partners, developing a new side of our store to complement the used, and applying the many lessons learned along the way to get here. One of the lessons being that paying for quality is something an audiophile buyer will never regret. Another, that finding out where the best quality lies can be time consuming and difficult, and sometimes involve buying things just to weed them out.
We offer a return policy on our Certified Pre-Owned equipment because of this, but as leaders in the used HiFi industry, and with leadership aspirations in the new, we want to do better than that. Through our Friday emails, our growing YouTube channel or through this blog, we share our listening impressions and we talk about brands that impress us, in the hopes that it helps audiophiles in their search for the perfect (for now) system.
We also intensely evaluate each new brand's products before moving into a dealership relationship, because having the ability to confidently recommend our new products as guaranteed excellent makes the most sense for everyone involved. We're spending the time buying and listening, so that we can save our customers those headaches.
One of the foundations The Music Room was built on was acknowledging a change in reality in the buying habits of not just audiophiles, but everyone, as the internet as a marketplace has become more popular. Nowadays, many audiophiles do their own research so they can buy without pressure or worry, and on their schedule.
While it's true that buying a tube amplifier is a little bit different than naming your auto insurance coverage from a phone app, it's also been true for some time that there are a lot of elements of a high end audio system assembly that require less hand-holding than the traditional "brick and mortar" dealership model. Our ideas of what kind of dealer we want to be have evolved over time, and we do boast a sales team of extremely knowledgeable audiophiles who answer all kinds of questions daily, but this is still a core truth in the landscape of our hobby today.
In this so-far fairly long-winded intro to a review of a product I haven't even mentioned yet, I thought I'd offer a peek behind the curtain to our process of evaluating brands we might eventually carry. This review will be a little unique, as I'm evaluating both a potentially incredible product and also the potential of an exciting future partnership with a brand.
When it comes to new products, we're looking for exceptional equipment which can cement a system. We're interested in meaningful innovation that solves real problems. Above all, we're interested in achieving the best sound, and we're passionately dedicated to the art of two-channel home HiFi. The equipment's got to have class-leading performance if it's going to make it into our lineup, and we've got high hopes in this case.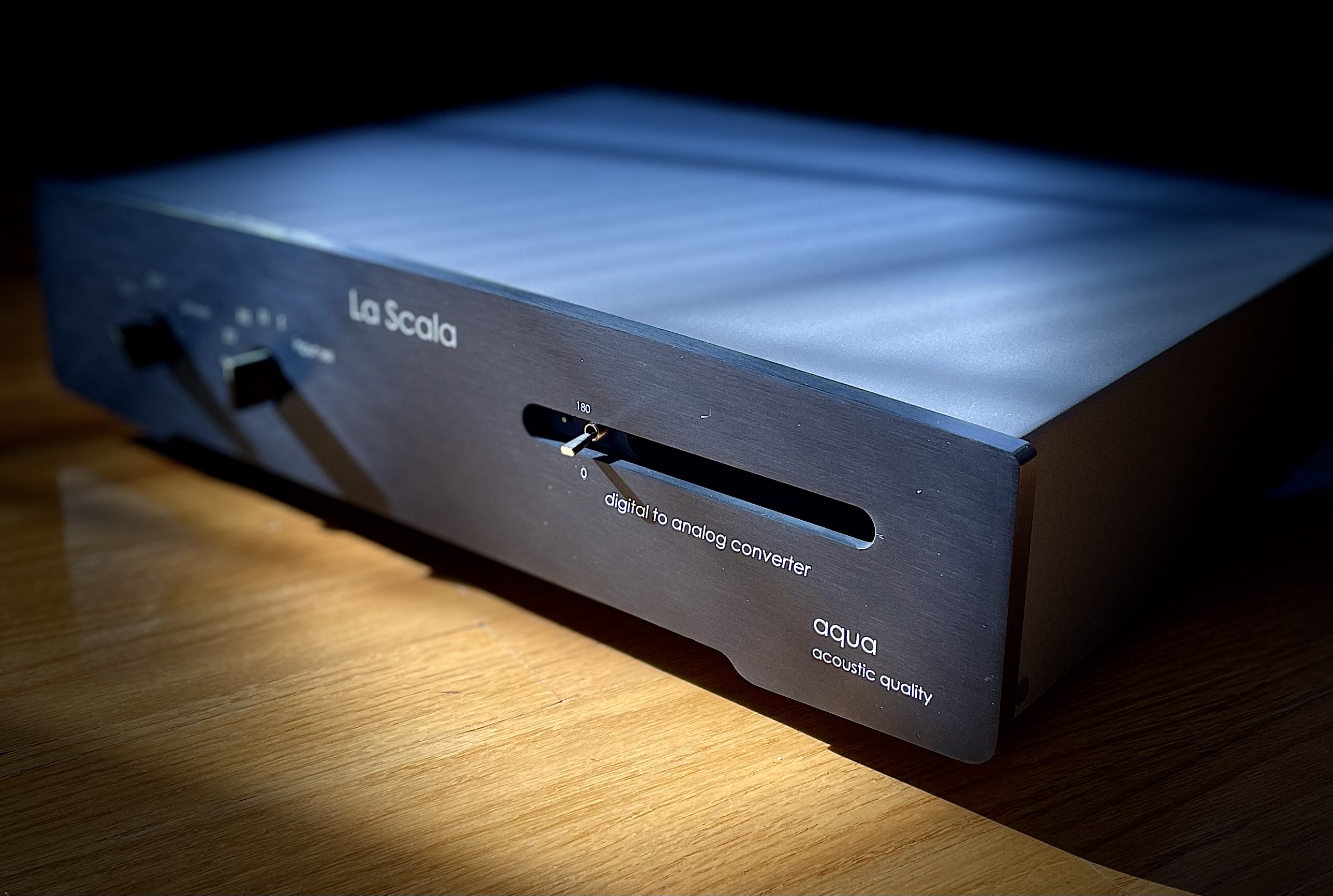 So it's without further adieu that I finally present the subject of today's curiosity: the impressive La Scala Mk II Optologic DAC from Italy-based manufacturer Aqua Acoustic Quality. Aqua is a brand I've seen before, with a few versions of the La Voce DAC making their way to my desk for testing over the years. They've always stood out against other DACs as particularly musical and honest in my recollection.
The newer Aqua La Scala Mk II is attractive for evaluation because it features a balanced "R2R" resistor ladder section, a big FPGA chip doing the digital decoding, a tube output stage, and galvanic isolation between these stages using optocouplers. Wow! That's like four different HiFi audio rabbit holes, each with their own cult of followers, all packed into one device.
Something equally intriguing is the combination of effusive reviews of Aqua's products and a kind of mystery or lack of information generally available about the company. Our communications with Aqua and its representatives have been responsive and jovial, and the product we received is nearly a work of art in design and construction, so we see potential.
It could be a great chance for us to step in and advocate for a less-well-known brand such as Aqua, helping paint a better picture of a super cool factory by the Italian oceanside, busily producing one of the world's finest R2R-based (& FPGA-based, tube-based, "Optologic"... What do we call this -- digital jambalaya?) DACs.
To be sure, the Aqua factory produces much more than just this product, including more DACs, a CD player and a streamer. In contrast to most other audio companies with a DAC in their lineup, Aqua is purely dedicated to producing source devices for a HiFi system, and it's encouraging to see that specialization.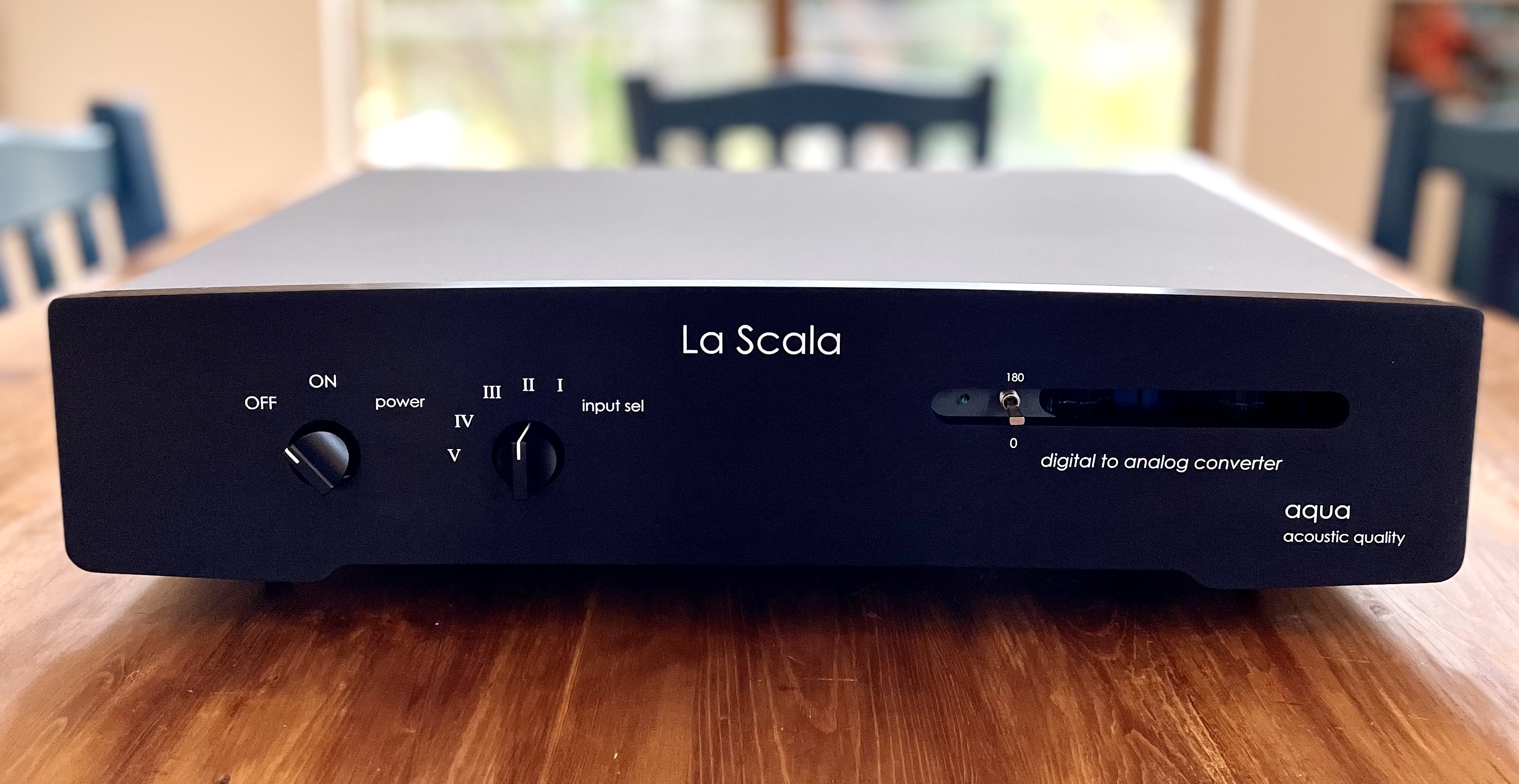 But First, We Wait
The first thing I learned about Aqua was how much the company's lead engineer cared about the sound quality I would hear, firmly requesting the DAC be burned in for no fewer than 300 hours. This is something I really appreciate, and while some armchair quarterback audiophiles may scoff at the idea of burn-in, every HiFi audio engineer I know knows otherwise.
An engineer at the factory can clearly witness a different character of tone and presentation in a box that has hundreds of hours on it versus one that just came off the line. The armchair quarterback audiophile cannot. It's a real phenomenon, and it applies to digital and analog components alike.
Because I'm a seasoned listener with decent DIY chops and many hours of listening to my own creations burning in, I'll admit I did sneak a quick listen, pre-burn, on a $20K dialed-in system so that I could have a starting point reference for the burn-in transformation. Sure enough, it sounded to me like a fresh component with lots of different parts with different heat stabilization needs, and fresh traces getting used to currents. I recognized the sound I was hearing as pre-form in a way and not yet mature, but I worry about buyers that don't heed Aqua's instructions, and who might not have encountered this process before.
Audiophiles have to accept that brand new HiFi audio products will not sound their best right out of the box. Burn-in at the factory can only go so far, because besides thermal normalization or physical aspects of burn-in like capacitor forming and speaker cone loosening, a good portion of the process is slow stabilization to the eventual installed-location climate environment, to the incoming voltage characteristics, and to the unique RF tapestry in the listening room.
A bunch of things needed to get worked out before any serious listening with this DAC, so the audio doctor's prescription was about 13 days of solid work. I chose not to listen during any of it -- sources like DACs, CD players and streamers can be burned in while the amp is off.
During this time, I cycled through four discs. In heavy rotation was the IsoTek System Restore & Rejuvenation CD with the white noise and the blips and bloops. Next would be a gentle bath of solo guitar and sounds of shuffling feet in the sand with Desert Songs: Tuneful Guitar Music for Relaxation and Massage by Tyler Grant, a flatpicking phenom in our local acoustic music scene.
Next, the sometimes lightspeed, sometimes brooding and always astounding UK multi-instrumentalist and musical savant Jacob Collier and his first album In My Room. To call this CD on repeat for several days a workout is an understatement.
Lastly, more stress in the form of the well-recorded, full spectrum Ludwigsburg Concert by the Lyle Mays Quartet. Lyle passed away last year, and I've been listening to this one a bit more lately, but it's no soft jazz, let me tell you. It gets challenging very quickly and the two disc set may have you wanting a nap afterwards. I think it's very cool in the context of his many years and many recordings with the Pat Metheny Group — I dig this side of his playing for sure.