Streamlined: The DAC/Streamer Combo
Some in the audiophile hobby prefer a complex HiFi system. To them, perhaps, the journey is an element of the destination. Others can't stand the clutter and would rather pass on the quest for synergy among a sea of connected boxes.
Yet all audiophiles aim for a resolving, musical, and magical listening experience. Even in a somewhat complicated system, there are places where you can combine tasks without losing a chance for sonic bliss.
Streaming is one of those places. These days, there are many fantastic-sounding DAC/streamer devices aimed at reducing the box count in an audio rack. Besides reducing components, you can eliminate system-altering digital interconnects and reduce potentially noisy power supplies. The DAC/streamer combo can be a great choice sonically, but the dividends don't end there.
There's something satisfying about a smooth user experience with a component like a DAC/streamer. When the streaming input is just another button on the remote, the process becomes as stress-free as anything in HiFi audio.
Moving up the price ladder in the DAC/streamer category generally delivers more sophisticated power supplies, better isolation from network noise, more advanced DAC components, and less jittery digital signals. But extreme ease of use, which is priceless, can be found in these combination devices.
Several DAC/streamer components are available from The Music Room, representing different price points, designs, and approaches.
Our sales team are streaming experts – reach out today with your streaming questions and needs by email (sales@tmraudio.com) or by calling 1-888-326-7490.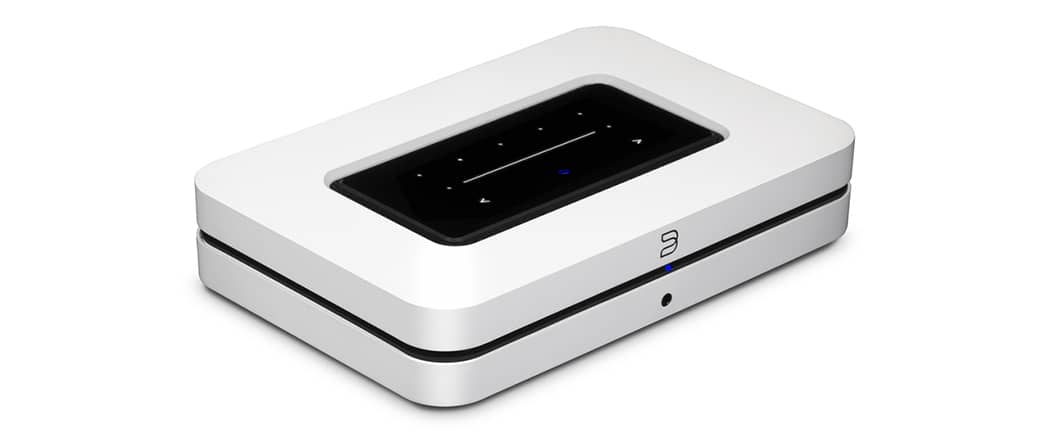 The Node is the first touchpoint in streaming audio for many audiophiles. Its straightforward BluOS software interface, easy setup, WiFi connectivity and budget-friendly price make it a popular seller. Add in its onboard DAC (including an optical input), multi-room capability and HDMI ARC input and it's a no-brainer choice for a complete streaming solution.
Price: $599
---

NAD's C 658 employs much of the functionality of the über popular M33 streaming amp, but without the amplifier. This allows it to easily slot into a system of separates, or brings the streaming game to a power amplifier of the listener's choice. The onboard preamp functionality is no afterthought, with an excellent phono stage and analog inputs included. DiracLive is possible through a modular "MDC" upgrade slot, and this component offers more digital inputs than many streaming DACs. It even sports a headphone output, further offering the chance to reduce boxes and enjoy simple operation. The C 658 is also a BluOS-enabled device, which makes it connectable in a multi-room setup.
Price: $1,999
---

In true do-it-all fashion, the DDP-2 also offers an analog preamplifier with balanced and RCA inputs. This product has surprising history and credentials in its backstory. Seasoned audiophiles will recall the brands Audio Alchemy, with its DDE Digital Decoding Engines, and also Perpetual Technologies. In 2016, ELAC acquired Audio Alchemy and its head designer Peter Madnick (and founder of Perpetual Technologies) was brought in to make electronic components under the 90-year-old German brand name. Peter brought his Alchemy and Perpetual ideas with him, and the DDP-2 is a testament to his years of experience and successful history in the industry.
This is the first product in the list to be a Roon endpoint, and requires a Roon "core" or server separately if using Roon. Streaming listeners could opt for Spotify's Connect or Apple's Airplay and skip the need for a core, though Roon is the audiophile's choice between them.
Price: $2,899
---

The Stream Xa from the British brand Cyrus is one of the finest examples of a high-performance, excellent-sounding streamer that comes complete with its own software platform. Like the Node from Bluesound, its footprint is quite small, and its integrated custom app is nimble and effective. It offers quite a few digital inputs and includes dual RCA outputs for connection to a power amp and subwoofers, and it can be powered by Cyrus' PSX-R2 linear power supply.
Price: $1,999
---
The legendary brand is best known for its Class A and high-bias A/B amplifiers, but many devotees see its digital efforts over the decades as neck and neck with the power division. Bringing years of innovation and experience to the table, the Vanguard represents some of Krell's best work. Matching an ESS DAC with Krell's custom output stage makes for a synergistic combination, and in true Krell fashion the power supply is overbuilt and expertly designed. The Vanguard is a Roon endpoint and offers Spotify Connect, and can be used with many other streaming services by way of the popular mConnect app.
Price: $6,600
---

Weiss' Grammy Award-winning namesake and designer Daniel Weiss hit a home run with these products. One is a desktop-sized DAC and the other (the DAC502, above) is full width, but they both employ the brand's famous in-house circuits and digital conversion. In fact, they're internally identical except the larger version includes a balanced headphone output. Reviewer Steve Huff said of the DAC501, "This is the kind of sound one would want if you are searching for a DAC that just delivers the music as it was intended to be heard." The state-of-the-art and upgradeable onboard DSP is icing on the cake.
Price: $10,695
---

Aurender's A series streamer/DACs offer analog outputs by way of various levels of AKM DAC chips and boards. However the Aurender devices are also considered servers. File storage via solid state and traditional drives means that entire libraries can be held and served locally. The in-house Conductor app even plays back cached streams from the faster drive for best sound quality. The A15 sports two external digital inputs, but higher up the line the S/PDIF inputs grow, among other upgrades and improvements. The A series is ideal as the centerpiece of a streamlined, streaming-focused high-end system, and bring Aurender's industry-leading hardware and power supply-prowess to the fore.
Price: $8,000